Back
Ultra-Realistic Training for CBRNE
Published on 28. February 2019.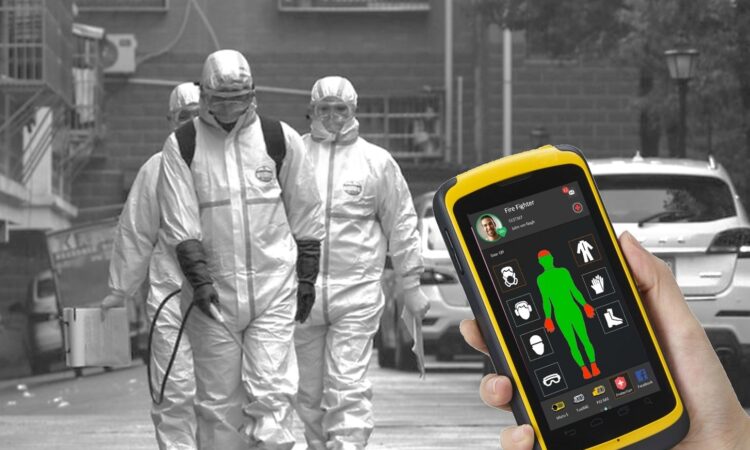 Yaron Mizrachi describes the advances in CBRNE simulation technology
The threat of terror attacks, including CBRNE-related events in urban areas, is escalating around the world. Expressing mounting concern, governments are actively seeking comprehensive, versatile, and highly effective responses. Ideally, the solution will include thorough training for first responders and law enforcement teams. It will ensure full mission readiness by providing the most realistic training environment possible while eliminating any potential danger to trainees from hazardous materials (HazMat). For situations in which a CBRNE threat arises during a terror attack, a method is required for synergistically training CBRNE personnel together with military forces that include real-time communication between civilian and military platforms, enabling instantaneous coordination.
Advanced Technology is the Answer
Bagira's state-of-the-art CBRNE training system ‒ the BreakPoint-TIM (Trainer for Incident Management) ‒ is unique in providing a remarkably realistic, high definition, 3-D training environment for up to 200 trainees simultaneously – without exposing the participants to hazardous substances.
Bagira's BreakPoint-TIM is built on the company's next-generation, field-proven, highly realistic imagery software ‒ the B-One Engine ‒ which is the basis for all Bagira's simulators. The B-One Engine can simultaneously handle up to a hundred thousand (100,000) entities whose individual behavior is dictated by actual physical models. B-One supports numerous types of scenarios for various missions, in which trainees experience life-like simulations of actual events, including the continuously evolving realities that occur during a real attack.  It can create a virtual "live" city with traffic, pedestrians, etc., as the CBRNE-threatened arena. It provides realistic all-weather, day and night images, with the night vision images based on the specific materials' compositions.
Realism Beyond Imagination
Each participant is given an Android device similar to a smartphone with an application, based on the latest technologies, that emulates a real sensor responding to real CBRNE threats. Via the device, trainees receive roles associated with their actual jobs and responsibilities. Via the device, trainees receive roles associated with their actual jobs and responsibilities. For example, a member of a medical team could be tasked with virtually examining and treating the injured, while a member of a decontamination team would be asked to handle decon-related activities.
The simulation includes the dispersal of dangerous substances via a digital cloud in which virtual substances behave identically to the actual behavior of these substances. They are affected by continuously changing conditions in the training scenario – including wind, rain, snow, the type of materials released, and the height at which they disperse, etc.  Virtual gas acts like real gas and affects the trainee according to his protection level and his position relative to the spreading gas. If the material typically spreads downward, the trainee will need to bend down to detect it and to measure it at the correct height.
Protecting the Participants
Beyond preventing trainee exposure to dangerous substances, the devices used by the trainees employ a location sensor that enables the control station to very precisely determine the location of every trainee – within approximately 2 centimeters! The system is based on both cellular and WiFi communications. In open areas, trainees are located via GPS, and indoors, via a dedicated, high-accuracy indoor positioning system.
The Android-based application also keeps track of the virtual medical condition of each participant and updates the instructor. If according to the current situation's risk level, the trainee should be wearing a mask or gloves, he is directed to put them on and mark the application accordingly. The instructor can verify the trainee's use of the mask or gloves, and determine the seriousness of the health hazard and whether or not he has been affected by the spreading substances. In addition, BreakPoint-TIM also emulates social media platforms, allowing participants to receive messages via Facebook, etc. Bagira's simple and intuitive CBRNE simulator software can be easily mastered in only a few minutes.
Planning the Scenarios
Bagira's CBRNE training system comes with a digital sandbox – an 86" virtual table with a touch screen called B-Scene ‒ which is an advanced 3D virtual planning and debriefing tool enabling the detailed planning and preparation of events prior to the training scenario. All elements can be altered ‒ including terrain, weather, buildings, and equipment ‒ and unlimited events can be run and tested on the table.
Unifying Training Worlds
Bagira Systems synergistically connects all training worlds ‒ LVC – Live, Virtual, and Constructive training ‒ blending real and virtual worlds into one unified solution, controlled by a single instructor. Together with the B-One Engine, it allows real-time, intelligent decision-making in a highly realistic environment, as well as unlimited training possibilities for endless training missions, resulting in maximized trainee preparedness for real-life situations.
Bagira's simulation systems, representing a quantum leap in simulation realism, enable the comprehensive integration of military and civilian platforms and provide customized interactive training environments to suit each client for all types of missions. With a special standardized skeleton and interchangeable animation, based on the B-One Engine, ultra-realistic simulation systems portray dynamically evolving environments including the physical destruction of buildings, bomb sizes, and location of hits, arenas the size of an entire country in real-time, movement of vehicles in urban areas according to local traffic laws, accurate IR images based on the composition of materials, etc.
Thanks to the unified technological platform and the ability to fully integrate multiple diverse training systems, the B-One Engine can seamlessly connect the company's versatile 3D CBRNE training capabilities with its other training systems. This enables the training of all forces involved in dealing with terror threats during their training sessions, with full commonality between the systems' control stations, as well as control by a single instructor. Examples of Bagira's military systems that can be combined with each other and with the CBRNE system are JOBSS – JOint Fires BattleSpace Simulator ‒ a virtual arena that simulates fire elements including artillery, rockets, UAVs, air platforms, and communication systems ‒ and the MAGNET force-on-force tactical training system that simulates real weapon firing without using real ammunition and without safety limitations. The B-One Engine challenges trainees with diverse, simultaneously-presented event types for complete mission readiness.
Bagira System Selected for the Netherlands' CBRNE Center
Bagira was selected by the Ministry of Defense of NATO member, the Netherlands, to supply the CBRNE training simulator and to operate it in the Dutch National CBRNE Training Center for 15 years. This is an additional order from the Dutch Government, reflecting the country's trust and satisfaction with their previous purchase of Bagira's JOBSS training system.
Author: Yaron Mizrachi, General Manager of Bagira Systems Ltd., joined the Armaz Group ‒ of which Bagira is a part ‒ in 1994, and has been the Group's President and CEO since 2002. Bagira is a leader in the field of Training and Simulation.